News
Feb 2023
Join Rapidgator on VIP conditions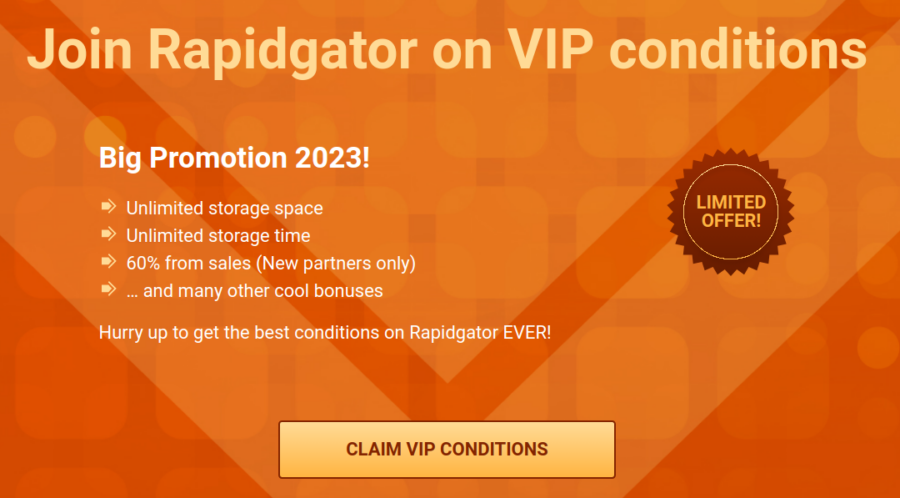 Upload as many files as you want. No limits. Extra speed.
Your files will NOT be deleted ever. Even without downloads.
Our normal rate is 50% so you will get more money for the same traffic
High-speed VPS server to re-upload your files to Rapidgator. Or a free 1-month subscription for Coolspeeds. By your choice.
Free personal online training. You will learn how to parse content, and how to upload content. How to prepare posts, how to make screenshots, and how to publish posts. And all of that you can set up as an automatic process using Zennoposter.
Zennoposter Professional costs $190 and you will get it for free! The best tool to automate your work with content.
We will give you an extra $100 for each earned $100. So for example, if you earn $500 you will receive $1000! 3 months in a row!
You will get a well-designed, SEO-optimized, WordPress template for your website. It will include all required themes and plugins. Admin dashboard will be integrated into your account on Rapidgator to manage your files more conveniently. Uploaded files will be posted on your tube site in real-time.
If you already work with RapidGator you can claim this extra bonus. We will give you an extra $100 for each $100 of income growth compared to the previous 3 month.
12. May 2022
Dear Affiliate
We want to remind you that the following content is prohibited for upload/sharing.


If you have such content in your files, we recommend you remove such files asap, in order to prevent a block on your account.
10. May 2022
Dear Partner,
Please note, that Commission for USDT TRC20 payout is 0.5% ( min 2 USD).
06 December 2021
For Affiliates: now you can set premium-only files to all files with a size of 100 MB+.